Short and long term shipping container rentals
If you're looking for a practical and portable storage solution, True Blue Containers should be your first stop; we provide premier sea container hire services in Perth. Our shipping container hire options are an affordable alternative to purchasing; whatever your long or short-term requirements, we'll take the time to understand your needs and source you a suitable solution. We'll then deliver your chosen product direct to your location in WA, or you can collect from us. Contact us to find out about our range of sea containers.
Storage container hire at affordable prices
Our hiring facility offers flexibility for temporary storage, interstate moves or once-off events. Shipping container rentals also give you the flexibility to 'try before you buy.' Purchase is also available during the rental period should you decide that buying is the best option for you.
Select from a range of high quality, secure, second hand shipping containers. We have a variety of sizes and configurations available, whether you need a simple storage solution or a longer-term office setup.
Choose from the numerous sizes, grades and options available, including:
6′ and 8′ mini cube
10′, 20′ and 40′
General Purpose
High Cube
Side Door
Open Top
Flat Rack
Refrigerated
Dangerous goods storage containers (AS1940-2004)
Our shipping containers can include shelving, ventilation, side openings or numerous other modifications designed to suit your requirements. Options are available for dangerous goods storage or refrigerated containers. Our containers are also popular for events, whether as a practical solution to temporary office space, as a stall or to provide an industrial-feel aesthetic quality to your event.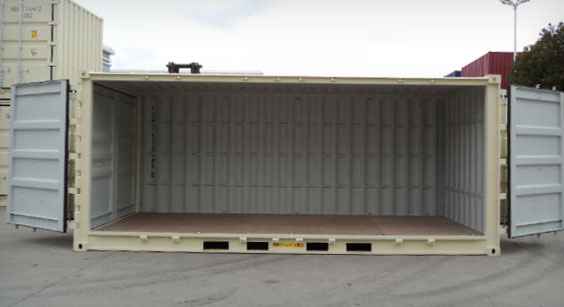 How to rent a container for storage
Browse our gallery or contact us to discuss your container requirements. We supply 6, 8, 10, 20 and 40 foot new and used containers. We offer conversions, flat racks, refrigerated containers and any specialised containers to suit your needs.
The terms for rentals are simple; the initial invoice will include payment to the end of the following month plus freight costs for the returned container, all payable before delivery. After that, period payment is monthly in advance by EFT, Cash, Cheque or Credit Card.
Shipping container hire and transport
Our shipping container rentals can be negotiated with delivery, if required. Shipping container rentals are a popular option for individuals or businesses who are moving and require temporary storage for a short period. We offer competitive prices and will work with you to source the right container.
With either tilt tray, side loader or HIAB truck, you can have your storage container delivered to your doorstep.
We offer a flexible service, backed by a network of suppliers and can provide the right container for your situation.
Rent a shipping container from True Blue Containers. Contact us and have all your questions answered by one of our helpful consultants.