If you have just hired or bought a shipping container, you might think that preparing the delivery site is a complicated. But it doesn't have to be. If you go into it knowing what you're doing, then it should be as easy as 1,2,3.
Consult our tips below to find out exactly what to do in preparation for your container delivery.
Choosing the Site
Is the site that you have in mind ideal for a container delivery? Regardless of what you plan on using the container for, whether it's a long-term onsite storage solution, a workshop, or to pack up your home when moving, aspects to consider when looking at your site include:
Do you have enough space? – The first and most important thing to think about is whether the area is large enough to accommodate a container. Keep in mind that containers come in several sizes including 8ft, 10ft, 20ft, and 40ft.
Is the ground in order? – The next thing to look at is the ground where the container is going to lay. Firstly, assess whether it's level or not, a level site helps ensure the container is level, and a level container ensures the doors are easy to open and close. Next, is the soil compacted and solid enough to prevent the container and delivery vehicle from sinking into it?
Truck Access – When choosing your site for the container keep in mind it is not just the footprint of the container to consider – you must also have enough access for the truck to deliver the container. The True Blue team can help you assess what type of truck is the best for your delivery. This may be a tilt tray, side-loader or HIAB truck. Please provide any photos of your potential site to one of the team at True Blue.
Footings – A container can sit directly on level ground, or you can place on footings to keep the container off the ground. If you want to keep your container of the ground you can use wooden beams, poured concrete footings or a concrete slab. Wooden Beam Footings (for example second hand upcycled railway sleepers) are the most affordable and easiest option available. We recommend when using wooden beam footings, a gravel bed should be made underneath the wood to aid in drainage – keeping the beams dry and thus preventing premature rotting of the wood. Concrete footings are ideal for when the Sea Container is going to be located in the same place for a long time, you can form up concrete in each corner at exactly the same level and have the container unloaded on top of the footings. We recommend that a bit of rubber is placed between the concrete and the container as per photo.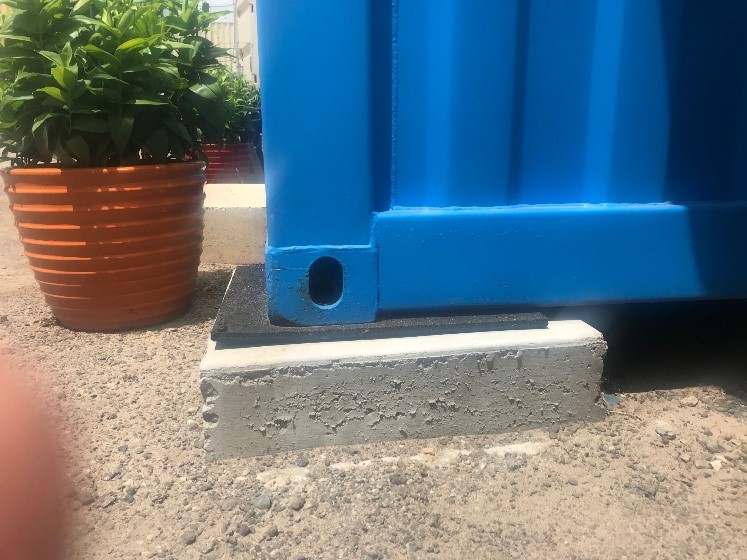 Call in the Professionals
With your site thoroughly prepped, you're now ready to receive your container. However, if you still have some questions around how you can get a spot ready for a container, feel free to give us a call today. Our friendly team of experts will be happy to answer any queries you might have.
Alternatively, if you're on the market for a new or second-hand container, take a look through our gallery to see what options we currently have in stock.